2020 has been a tough year, for the best of us. From lockdowns to restrictions across the country, many parents have found themselves spending more time at home and having to find ways to entertain their little ones. Luckily, the award-winning EasyPeasy app has been there to help every step of the way, with games, tips, and loads of handy advice.
Back in October, we invited parents to share their experiences and tales of using the app and let us know how it helped them through the challenges of the recent months. Let's take a look at five amazing stories from some of our top app users (and contributors!).

Maz Delaney:
"I'd recommend this app to any busy parent looking for fun and quick things to do"
Busy mum-of-three, Maz Delaney, started using the app recently to get more out of her time with her family. Since EasyPeasy is packed full of quick activities that engage kids, she found that there were plenty of ways to keep her little ones entertained and happy.
"I love using the EasyPeasy app with my kids. It's versatile, easy and fun. There is always something to find for each of my three kids and we love playing the games together. I find they spend less time in front of the TV and more time playing together making memories," explains Maz.
Trying to balance the challenges of parenthood with the ongoing restrictions of lockdown has been tough for all parents. For that reason, Maz used the EasyPeasy to instill a regular evening routine and make putting her little ones to bed a breeze.
"We sometimes struggled with bedtime especially over the lighter months and during COVID lockdown," continues Maz. "The app helped me with practical tips and advice on how to improve bedtime routines and it really helped. They are easy to implement and realistic too. I'd recommend this app to any busy parent with young children looking for fun and quick things to do."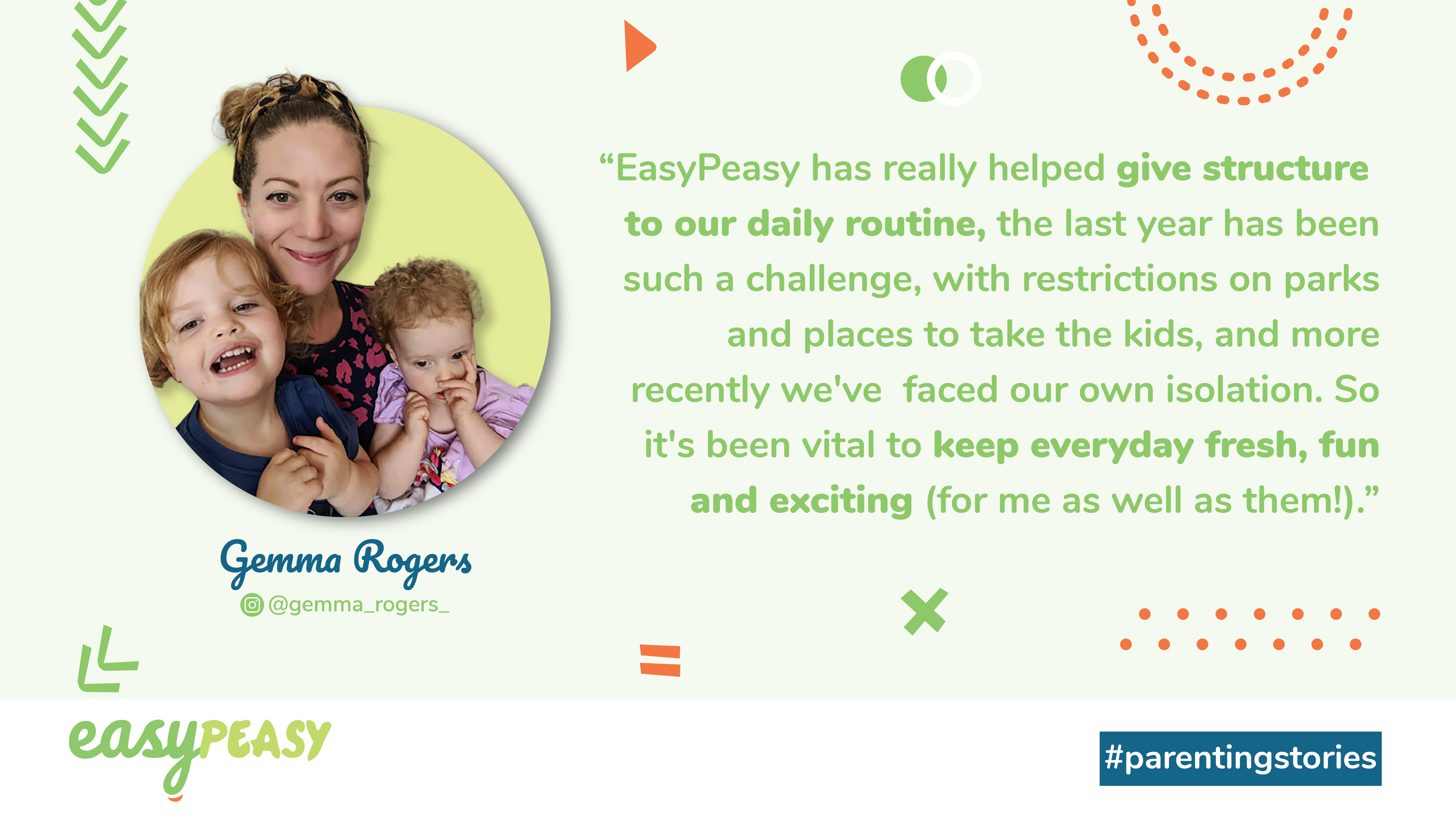 Gemma Rogers: "EasyPeasy has really helped give structure to our daily routine"
Mum to two little girls, Gemma Rogers, started using the app during lockdown. Since the restrictions meant that she couldn't take her kids to local places of interest, she turned to the app to keep things new and interesting for the whole family. From games and activities to fun tips from other parents, she found an endless supply of inspiration.
"EasyPeasy has really helped give structure to our daily routine, the last year has been such a challenge, with restrictions on parks and places to take the kids, and more recently we've faced our own isolation," says Gemma. "So it's been vital to keep every day fresh, fun and exciting (for me as well as them!)."
"With the option of popping to the local toy shop currently out the window, I've come to rely on ideas from the site even more. For the rainy days, getting the kids involved in baking has proved very popular. And whilst we've had breaks in the rain colourful chalk creations have been really fun to do in the garden."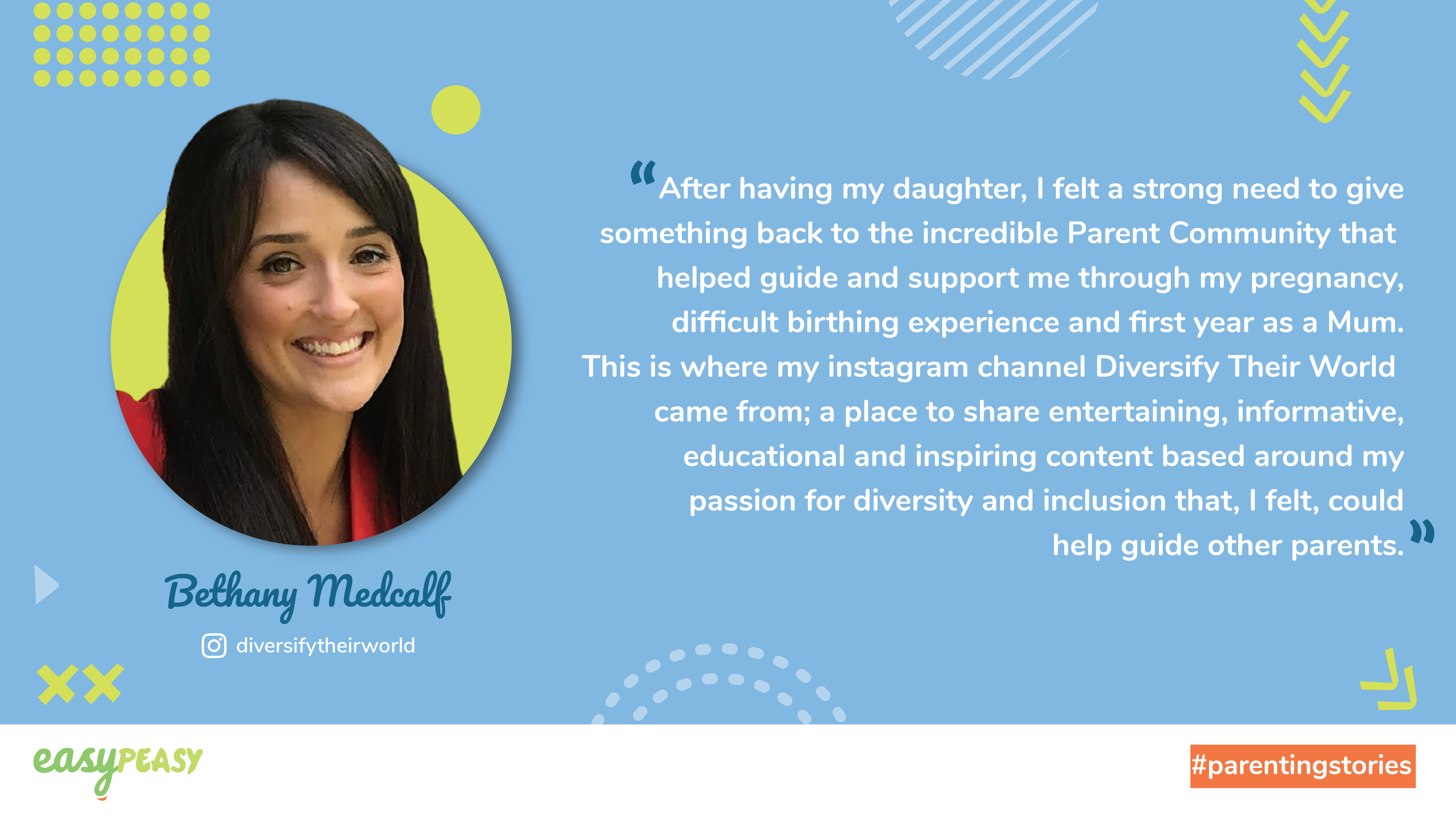 Bethany Medcalf: "Collaborating with EasyPeasy felt like a natural partnership"
Creator and mum to one daughter, Bethany Medcalf, not only uses the EasyPeasy but also contributes engaging content too. Her parenting journey has inspired her to share fun and engaging resources based around promoting inclusivity and diversity. Her inspirational must-see content can be found both on her Instagram account and within the app.
"After having my daughter, I felt a strong need to give something back to the incredible parent community that helped guide and support me through my pregnancy, difficult birthing experience and first year as a mum," says Bethany. "This is where my Instagram channel Diversify Their World came from; a place to share entertaining, informative, educational and inspiring content based around my passion for diversity and inclusion that, I felt, could help guide other parents."
EasyPeasy gives parents the opportunity to share tips and advice with the ever-growing community. For example, if a parent discovers a new way to cope with toddler tantrums, they can instantly share this hot take within the app, using GIFS, photos, stickers, and text. As Bethany explains, taking the leap to partner with the app felt right for her.
"Collaborating with EasyPeasy felt like a natural partnership. Their platform enables so many parents to find inspiration and guidance at the touch of a button (often after little sleep when someone else doing the thinking for you is invaluable!)," says Bethany.
"To be able to offer silent support to other parents in the form of play ideas, motivational words, guiding tips, whenever they need it is brilliant. To know that I am contributing to that in even a minuscule way makes me feel proud and privileged."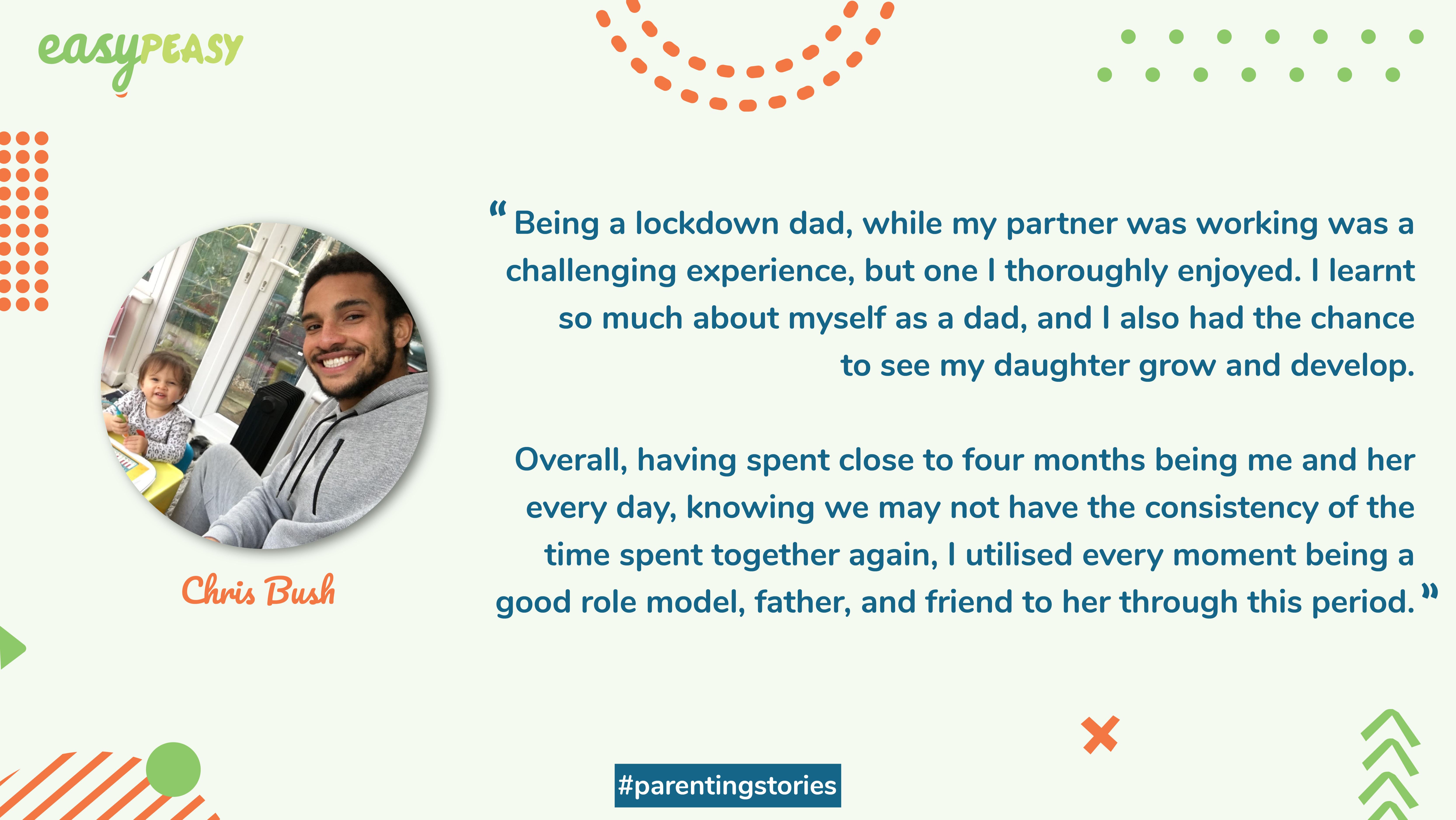 Chris Bush: "I utilised every moment being a good role model, father, and friend"
Throughout the national lockdown, Chris Bush spent nearly four months looking after his little girl while his partner was at work. While he faced challenges, the opportunity to spend so much quality time with his daughter was invaluable. As he explains, this unprecedented period allowed them to create a deeper bond and learn more about one another.
"I utilised every moment being a good role model, father, and friend to her through this period. There is no doubt our relationship has grown and will continue to deepen," says Chris. "After having a few uncoordinated days, and after speaking with my partner, I made a list of the stuff that I could do during lockdown, then how I could implement it with my daughter," continues Chris.
"Going on lots of walks and bike rides helped keep her on her toes and get much-needed exercise. Plus, with all the hot days that we had, we spent a lot of mornings in the paddling pool just working on different activities. Pouring the water from one jug to another, cleaning her toys, and of course some messy play with paint and playdough."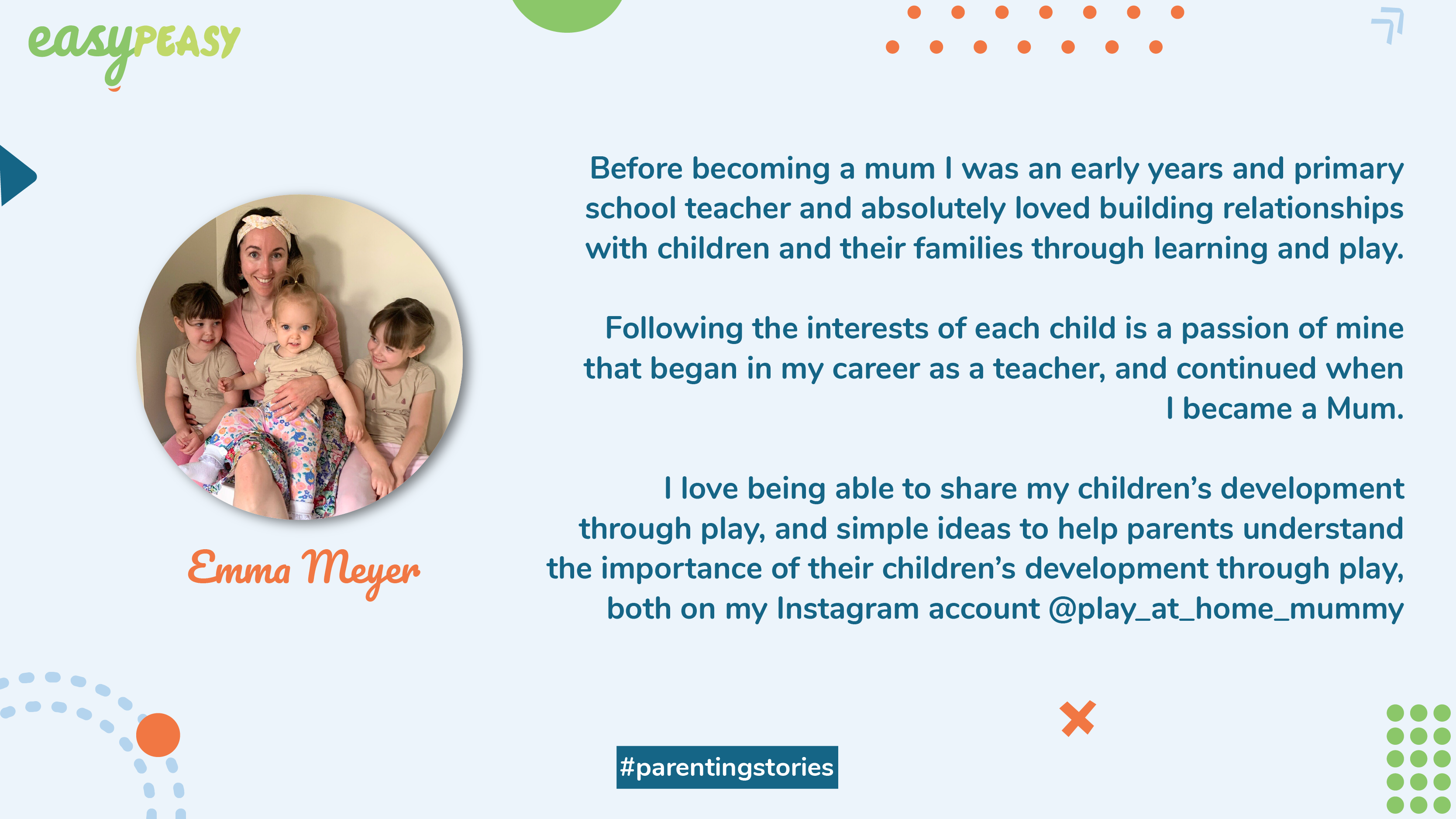 Emma Meyer: "I love being able to share my children's development through play and simple ideas"
Content creator and mum-of-three, Emma Meyer, has always had a passion for sharing fun, new ideas. Her former experience as a teacher and natural flair for creativity has inspired her to share a whole load of engaging content with parents just like her.
"Before becoming a mum I was an early years and primary school teacher and absolutely loved building relationships with children and their families through learning and play," says Emma. "Following the interests of each child is a passion of mine that began in my career as a teacher, and continued when I became a mum."
As Emma explains, using the EasyPeasy has allowed her to share some of her interesting ideas and pieces of advice with a wide audience. She also has a hugely popular Instagram account where she gives playtime tips, routine advice, and much more.
"I love being able to share my children's development through play, and simple ideas to help parents understand the importance of their children's development through play, both on my Instagram account Play at Home Mummy and here on EasyPeasy!"

Try the EasyPeasy Parenting App today!
Parents can now create and share their very own tips and secrets with other parents on our app! 💚 Whether you've got a play idea which helped your child's development, a new way of getting your toddler to bed without a fuss, or how you've coped with a difficult situation - it couldn't be easier to to create an EasyPeasy Tip within the app, using GIFS, stickers, photos and text!
Start creating your first parent tip 💡 to share with EasyPeasy parents