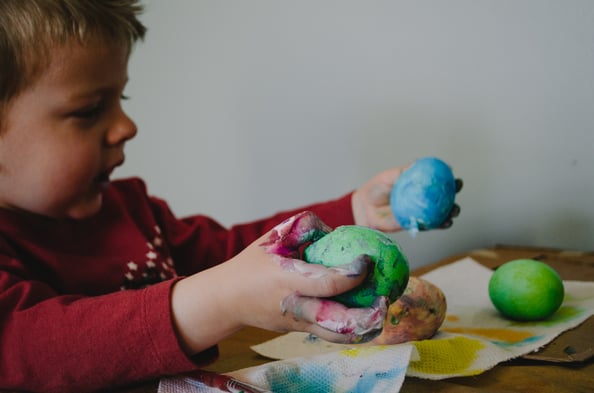 It's no small feat to keep children entertained over weekends and holidays. Having them full time, potentially indoors, is a challenge the most resilient parents and carers are anxious about.
For those who work from home, keeping children happy without constant supervision takes imagination. Parents facing potential redundancy or can't work are naturally worried and need extra support.
Carena Hall, a parent of 3 in London, says: "I'm petrified at the thought, but at the same time excited at what a lovely bonding family time this could be. At the moment I feel I have lots of ideas and resources but they will run dry quickly - I need help!"
This common challenge has resulted in parents across the world sharing inspiring and inexpensive ideas to make the next few weeks – or months – easier. These are circulating by the hour on WhatsApp and Facebook groups.
Despite this community support, anyone looking after children has a unique set of circumstances and challenges.
Natasha Gould, from Streatham (London) says: "I have a 4-year-old, and a live wire 7-year-old with ADHD and autism, who wakes up bored and has little attention span. I also work from home. I have no manual for this at all and I cannot work around my daughter. My needs might cover a whole different article!"
There is no one-size-fits-all approach. Each child (and parent or carer) has different needs. While ideas and tips can be helpful, they won't work for everyone.
Some of the games and activities below require supervision, while others keep children busy while adults work or run the home.
Put a routine in place
This will help both you and your children. Both of you are used to following a schedule, so making a plan for each day, regardless of circumstance, will contain anxiety and soothe everyone.
The goal is to keep children busy and learning and help adults to feel life can go on in even if this is a different 'normal'.
It doesn't matter what the format for this is - scraps of paper, a digital calendar, bathroom mirror - everyone should do what works for them. In terms of scheduling, look to the school and early year settings daily plan for ways to do this. And seek support from other parents.
Have your children help you cook something simple in the kitchen
Include children in what you are doing and don't forget that learning happens in a different but equally important way in the home and community environment.
Activities - like cleaning and cooking with parents - teach children important skills and help children to better connect with their families. It is easy to watch cooking videos online and make food from another country with ingredients in the cupboard.
Exercise in a way that helps both parents and children
Exercise, whether it is a fast walk several times around a park, or short workouts at home, can't be stressed enough. An excellent resource is GoNoodle - movement and mindfulness videos created by child development experts.
Exercise is a game-changer for mental health, boosting 'positive' brain chemicals and helping children burn off the energy they would normally at school settings. As a precaution, stay away from playground equipment.
You can also design your own exercise routine. Take turns teaching an 'exercise class' to you and your children's favourite music - however much of a challenge your children's choices are!
Give small children a bath
This is something many parents say works really well. Putting different toys and bubbles in the bath creates an experience similar to taking children to the swimming pool. Although adults need to supervise, it serves as a quick-fix for many trying to create new experiences for children in small spaces.
Use your environment and inexpensive tools
Draw pictures outside with sidewalk chalk. Use shaving cream and create art outside or on the bathroom wall. Collect rocks on a walk. Paint them at home. Make flower crowns. Bring out packing boxes and build a tower.
Use technology to spark a child's imagination and connect them with the 'real' world
Watch animals live on zoo webcams in the UK, or across the world. There is wonderful footage of animals such as lions, elephants and pandas. Google live webcams and your child's favourite animal - and then draw them with your children afterwards or take an imaginary 'safari'.
Learn three new vocabulary words a day
Turn each word into a painting or drawing. It will help you and your child to use a different part of your brain and focus less on a feeling of confinement.
Write a letter or send a card to grandparents and other relatives
Whether or not your local post service is open, websites like Thortful can print and send cards for you. If this stops, write a letter anyway and send a photo.
In the same spirit, communicate more with important people in your children's lives. Use FaceTime, Skype, WhatsApp video, Google Hangouts or another platform to video chat with a friend or relative.
Play dress up
Parents will need regular breaks. A quick fix for this (while you boil the kettle and drink a cup of tea) is to take some outfits out of the closet and let your children have fun with dress up. Remember to take out the old outfits!
Make playdough
Shape animals and give your child a sensory experience – playdough is easy to make at home.
How should you talk to your child about the virus?
No one is an expert: do not be afraid of saying the wrong thing or intimidated by scientific jargon. The BBC and other sites have cartoons, videos and help easily accessible for children of all ages. Just make sure to supervise and stay around to ask or receive questions.
Self care for parents
Many parents know to different degrees how tiring raising children can be, leaving little time for prioritising self-focus. And although it will be tough, parents should try to plan to do things that make themselves feel cared for and nurtured. This might be watching a favourite series each night, going to bed earlier or talking to other like-minded friends and parents on WhatsApp.