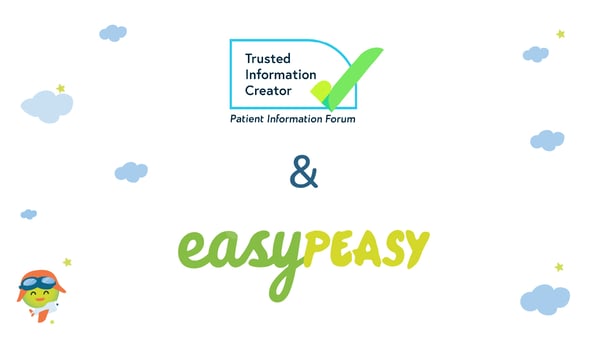 We're proud to share that EasyPeasy is joining the PIF TICK scheme to become a 'trusted information creator'. EasyPeasy is committed to making sure all its information is reliable, evidence-based and accessible. To make sure information meets the highest possible standards, it has signed up for independent assessment by the PIF TICK – the UK-quality mark for health and care information.
Jen Lexmond - Founder & CEO at EasyPeasy said: "We're proud that EasyPeasy has achieved PIF TICK accreditation - the only UK wide quality mark that verifies consistently high standards for health information. The PIF TICK assures our users that the child development advice, ideas, and support they find on the EasyPeasy app is reliable and trustworthy."
The PIF TICK, which launched in May 2020, is run by the non-profit Patient Information Forum (PIF). To gain accreditation, organisations must meet 10 key criteria in their information production process. This means you can be assured that when you are accessing health information on the EasyPeasy it is evidence-based, understandable, jargon-free, up-to-date and produced to the best possible standard.
In July 2021, a public website, www.piftick.org.uk, was launched to raise awareness of PIF TICK accredited members and help people find trusted health information. The community includes organisations such as Babycentre, Cancer Research UK, Mind, Marie Curie and Astra Zeneca.
PIF TICK manager Dan Wills said: "Our research shows people want a quality mark on health information. With so much misinformation available, the PIF TICK is a quick and easy way for people to identify information which is trustworthy, up-to-date and evidence based."