Over the last year, we have partnered with ICAN and the Royal College of Speech and Language Therapists and to deliver the Department for Education-funded "Changing the Conversation about Language" project. As a result of combining all of the partners' expertise in the field, this project puts language and communication at the fore; supporting over 10,000 families with programmes that develop their children's language and communication, and working to promote the importance of these key skills to the parent community. One of the programmes is EasyPeasy's evidence-based 20 week programme, which is being delivered to families to give activity ideas, tips and advice for supporting their children's language and communication at home, as well as other key skills like self-regulation, resilience and concentration.

The project came with the invaluable opportunity to work with Janet Cooper, a consultant speech and language therapist, to bolster the learning opportunities within the programme for early language development. Janet has over 30 years working with children with developmental speech, language and communication difficulties. She set up and leads the Stoke Speaks Out initiative and is clinical lead speech and language therapist for Midland Partnership Foundation Trust.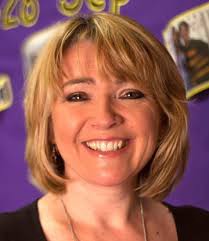 We caught up with Janet about her work on the project so far…

This project is all about enabling parents to support their child's development at home. Why do you think it is important for parents to get involved in their child's learning?

The majority of children's brain growth is in the first three years of life — with the majority of this in the first 12 months. Throughout our early years, and indeed our primary school years, the home environment exerts the most influence on children's development. It is therefore crucial that we support parents to have the skills and knowledge to help them be the best parent they can be.

I work with lots of parents who genuinely love their children but do not know what they can do to support their children's development. They are often surprised when the advice is simple and play-based. Our families are bombarded with social media, television and electronic gadgets, but, while these have their place, they do not provide the human interaction necessary for children's development. I often find when parents have tried ideas at home they realise what fun they are for both the parents and child -this encourages further interactions and less reliance on the gadgets.

EasyPeasy activities are designed to increase positive parent-child interactions by equipping parents with ideas and confidence to play. How would you describe EasyPeasy activities as supporting early language development?

Communication development relies on a child having a responsive adult who can stimulate early interaction. Before words, children need to develop 'pre verbal skills'. These are the building blocks for communication. ideas which encourage eye contact, turn taking and use of simple repetitive language are all useful to encourage this. EasyPeasy activities introduce a range of ideas which all encourage this close time between parent and child. Many families want to support their children better but do not always have the ideas to try. The activities provide the ideas and encourage families to have fun together.

Communication is best supported through natural interaction, repetition, introduction of simple words and vocabulary and someone who can build on previously learnt language then add more. Most of our speech, language and communication develops from positive interaction- this can be done through any ideas even when the focus may appear to be a physical one or a mark making activity.

Your work involved highlighting the opportunities for language and communication development in EasyPeasy activities. Can you tell us about your process?

Based on my work with families, I made suggestions for children who might struggle to access the activities. One of the simplest ways of reducing language 'load' is to ensure there are less key words in a sentence and to keep the vocabulary simple. For example, in 'Tower of Hands' the original game suggested asking the child to put their hands 'underneath'. Many children struggle with the preposition words (place) so I suggested simplifying the game with the words 'down' and 'up'. Children all develop at different rates so it was essential to give a range of advice for children who might find the task too easy or too difficult. EasyPeasy adapted the content to incorporate my feedback.

All positive interactions have the potential to support early communication development. The key is to have fun together, talk about the game and take turns. As a responsive adult it it important to spot when your child wants to stop or to have another go, so watching your child's reactions is really important.

What are you hoping the project will achieve?

We are supporting five different areas across the country; I am hoping that we will encourage lots of families to take part and that the families will see the positive impact of playing regularly with their children. The more language children hear, the more language they are likely to use so I am also hoping that children's language will improve as a result of the increased interactions. I am also hoping that families have fun together through EasyPeasy's simple, free ideas- parenting can often feel stressful and present challenges so I hope this reminds everyone the absolute pleasure you can all get when playing together.

Finally Janet, do you have a favourite EasyPeasy activity?

My favourite EasyPeasy activity is Pop Goes The Bubble. Bubbles are really engaging for any age child and can be used to develop lots of skills from early eye tracking through to following instructions such as 'stamp on the bubble' or 'use your elbow'. The great thing about bubbles is that they are inexpensive and easy to carry if you want to take a game on a trip with you.
Find out more about Janet Cooper here.
Check out Tweets from EasyPeasy's Community of Practitioners and Parents and who are taking part in the project.